Summer is here.  If you're like me, that means a lot of parties and barbecues with lots of yummy and maybe not super healthy food around.   I recently received the following three tips from Frito-Lay for a healthier summer party that I thought I'd share with you.
1) Dip'ilicious – Dips are a great way to creatively integrate veggies into a healthier diet, and with just three simple ingredients, many of Frito-Lay's snacks are a perfect compliment for that extra crunch!
Dip into Sabra Hummus or Tostitos Salsa.  Use Fritos Corn Chips – they're made with just corn, vegetable oil and salt!
Couple up Lay's Classic Potato Chips – made with just potatoes, all-natural oils and salt – with this fresh Cucumber Dip:
Ingredients:
1 cucumber, shredded
1 cup nonfat, plain Greek yogurt
1 tsp garlic, minced
Salt to taste
Lay's Classic® Potato Chips
Directions:
Mix cucumber, yogurt and garlic together in a small bowl. Refrigerate for at least 30 minutes. Serve with Lay's Classic potato chips.
BONUS: You can also use these dips as a healthier way to jazz up your burger and brat toppings — great substitutes for mayo and BBQ sauce!
2) Whole Grains – We're all trying to incorporate more whole grains into our diets, but not everyone knows how. Here are some easy ways to make whole grain a hit at your party:
When serving up your dogs and burgers, choose whole grain buns – they're just as delicious and a great way to sneak in those whole grains.
When it comes to chip crunching, try a side of SunChips multigrain snacks, with 18 grams of whole grains in every one ounce serving.
If you're into dipping, try pairing Tostitos Scoops! tortilla chips, which have 8 grams of whole grains in every one once serving, with this Chipotle Salsa for a vitamin-rich snack:
Ingredients:
¼ cup fresh cilantro, finely chopped
3 tbsp lime juice
1 ½ tbsp chipotle chilies chopped
1 ½ tsp ground cumin
1 jar Tostitos®  Salsa
1 bag Tostitos® Scoops! Tortilla Chips
Directions:
Mix together first five ingredients. Chill before serving with Tostitos tortilla chips. Garnish as desired.
3) Downsize Your Dish – When sitting down to enjoy your barbecue, swap your 12-inch plate for a 10-inch plate—you'll have less space to pile on the calories. Aim to fill half your plate with vegetables, a quarter with whole grains and a quarter with lean protein (meat, chicken, fish, shellfish). Remember to study the back of your Frito-Lay chip bags to take the guess work out of portion control.
The Giveaway
Frito-Lay is giving one of my readers this cute summer bowl from Crate and Barrel and an assortment of Frito-Lay products!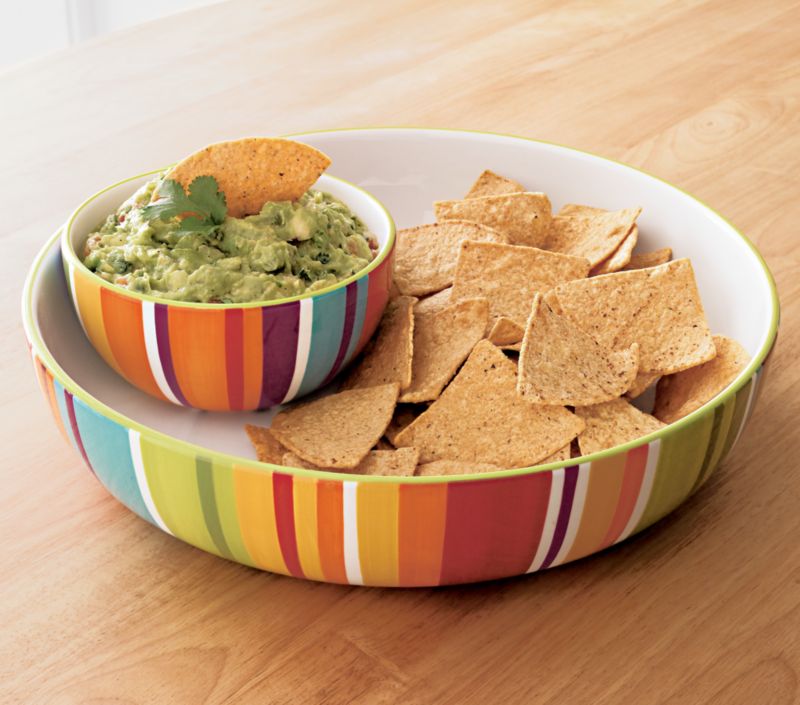 Mandatory Entry:  Leave a comment telling me a healthy food you like to bring or make for summer barbecues.  Make sure you leave an e-mail address so I can contact you if you win.
Extra Entries:  You can do any of these for 1 additional entry.  Leave a comment for each entry and make sure I have an e-mail address.
1. Follow Adventures With Three Girls on Google Friends Connect (over on the right sidebar).
2. Follow Adventures with Three Girls  on Twitter
3.  Like Adventures With Three Girls on Facebook
The contest will run until 11:59 pm PST July 31, 2010.  The winner will be chosen by random.org.    U.S. only.  Good luck!
Disclosure:  Frito-Lay provided me the healthy tips and recipes and I received Frito-Lay products for having this giveaway.
Update 8/1/2010  This contest is now closed.  The winner is Peggy!  Thanks everyone for entering!