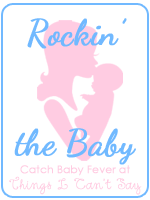 I'm linking up with Shell over at Things I Can't Say for her Rockin' the Baby meme.  Her Rockin' the Bump meme was so cute, but I didn't have any pictures of my bumps (that I wanted to show the whole world), but I'll always show pictures of my cutie pies.  Click on the button to swoon over all the other cute babies. Almost makes me miss having little babies around. Almost.
My first born, Samantha.  This is her a few hours old in the hospital. I can't believe she's starting kindergarten in September.
And here she at about 3 weeks old doing one of her favorite things, sleeping on her daddy.  Clearly, her other favorite thing was eating.
Middle child, Ella.  This is one of the first pictures of her in the hospital. She turned 3 in May.
And here she is at 6 weeks old, smiling and laughing.  She still loves to laugh.  My funny little girl.
And the last born, Penelope, getting her first bath at home at 4 days old. At 19 mos, she still loves the water.
And here she is at 10 days old, during our Christmas photo session.  Got those cards out a little late, but getting here on them was worth it. I love her little feet in this picture.