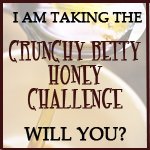 Leslie, aka Crunchy Betty,  issued a challenge last week, and since we all know I have a bloggy crush on Leslie, I signed up. I've been taking the Honey Challenge for the last week and my skin is loving it!
The challenge is super easy, wash your face at least once a day with raw honey for two weeks and see how you like it. That's it.  Two weeks. Honey.
Why Honey?
Leslie does a great job explaining it in depth on the Honey Challenge post, but here's the skinny version.
1. It's antibacterial and antimicrobial.
2. Super moisturizing.
3. Has healing properties for any acne blemishes or scars.
4. Enzymes help clean your face and are anti-aging.
I have to admit, I've been a little lax on the homemade face washing stuff lately. I've been using the Say Yes brand intermittently, and really, my skin is not so much loving it.  So this was perfect timing to get me back onto my homemade regimen. I've used honey as a mask before, but never as a daily face wash, so I was curious how it would go.
In the morning I've been washing with honey and, if I remember and have time, leaving it on for a few minutes.  My skin is super soft, clean, and clear.
I see no reason to stop.
It's a natural way to cleanse your skin involving no chemicals or nasty stuff.  And think of the money savings from ditching those expensive moisturizers, creams, and cleansers.
And honey never goes bad. Ever. (You know, since it's antimicrobial.)  Even if it crystallizes it's still good.  You just need to warm it in a cup of warm water to melt the crystals.  Think how long one jar of honey will last.
Wanna try and see for yourself?
Here's what you do:
1. Get raw honey.  You can read in depth about why using raw honey is important at Crunchy Betty.  Here's the low down though.  Raw honey is not pasteurized.  Pasteurization (heating it up really hot) destroys the lovely enzymes in the honey that are so good for your skin.  So look for it to say raw. Got it. Raw.
2. Pour about a teaspoon in your hands and rub them together to warm up the honey.
3. Rub honey on face.  (Make sure you have your hair pulled out of the way.)  The honey will liquify a little on your skin and not be too sticky and thick.
4. Leave it on your face.  If you have time, leave it on for 5-10 minutes.  If not, that's okay.
5. Rinse face with water.  It rinses off really easily.
That's it. Once a day for two weeks.  Make sure you're using it on make-up free skin, so in the morning probably.  It's so easy, a 3 and 5 year old can do it. If you're going to try, go over and sign up at Crunchy Betty.  There's prizes involved.
Are you doing the challenge?  How's it going?  Have you used honey before as a face wash?