Halloween is one of my favorite holidays. Some days it's ahead of Christmas since there's not the stress of shopping. I love the witches and bats, pumpkin carving and caramel apples.  This year the girls are old enough to start enjoying the scary parts.  I bought a couple books of scary stories, the kind where you scream or jump at someone at the end, and they beg to hear them at night before bed.
Of course, Halloween involves costumes for trick-or-treating. We buy our costumes because I am both too lazy to make my own and not talented enough to do it.  The girls are starting to show they're growing up with their choices.  No more fuzzy kangaroos here.
Penny is going to be Izzy from Jake and the Neverland Pirates (very popular with the preschool crowd).
Ella is still into princesses and fairies, so she's going to be a princess fairy.  She decided to wear an Aurora costume and also get fairy wings, a rainbow headband, and white gloves. (Princess fairies wear long, white gloves.)
Then there's growing up fast, Sammy. She likes Monster High. I'm not sure why. She saw the dolls in a store and liked them, I guess. I kind of like them too. Girly monsters are a nice change from princesses. So we went in search of a costume.  The first store we went to, where the other two got their costumes, didn't have a lot in her size.  She decided that Abby Bominable would be fine. Here's the costume.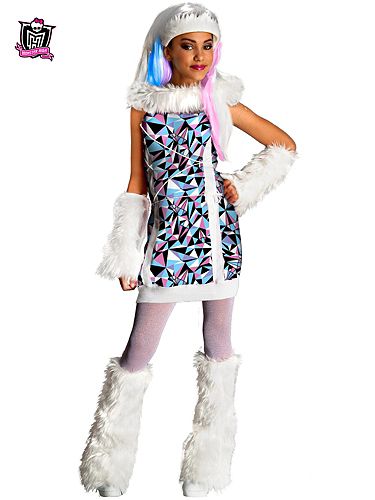 So, it's cute. She loved the wig and the faux fur leggings and arm things.  My issue with it, that skirt is short. I mean you have to be really careful not to flash your panties when you sit kind of short.  Sammy gets to wear her costume to school on Halloween, so I had visions of her showing her panties and flipping upside down in the costume.  Also, Sammy loves to hula hoop and she would look like a go-go dancer doing that in the costume. I thought, maybe it was a little old for her. But I was having a hard time finding another Monster High costume in her size in stock (apparently, a lot of girls her age like them).
Finally, Target saved the day with a Threaderella costume.  Sammy prefers that character, so no whining about the switch, and it's a little more modest, as you can see.
The only problem, they didn't have her size. So I bought her the bigger size. It fits, it's just long, like ankle length. Even better. Maybe she can even wear it again next year.
What are your kids going as? Do you buy or make your own?